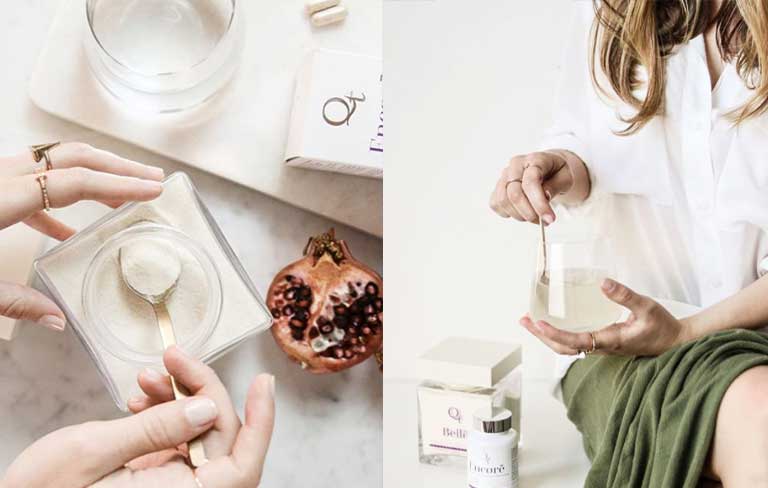 QT Cosmetics: Ultimate Solution for Hair Skin & Nails
It is time to revolutionise what it means to be beautiful. Enhance your natural beauty from within with QT Cosmetics and be your own muse.
Effortlessly glowing, natural beauty isn't just reserved for celebrities, it is for you too. Enjoy the finest ingredients in these award-winning ingestible beauty products while also boosting your immunity.
Enhance your vitality, radiate glowing skin and also exude self confidence. Be the best you, every day with your daily does of luminosity.
Feel balanced, increase your energy, support immunity and also shine from the inside out. Enjoy the best and be the best, with QT Internal Cosmetics.
QT Cosmetics Bellē
Bellē is your daily dose of luminosity. Stay radiant and vital all day, every day.
Bellē has been specifically engineered to help women combat:
Ageing
Brittle hair and nails
Dull complexion
Blemishes
Joint pain and weak bone strength
Cellulite
Hormonal imbalance
Stir into a drink or your favorite food and you're good to go!
Feel balanced with this newest advanced formula containing 240g of product – with added New Zealand Marine collagen.
What's In It?
New Zealand Marine Collagen
Clinically proven to counteract ageing, marine collagen works to reverse fine lines and also wrinkles. Bellē contains only premium quality natural hydrolysed collagen peptides – the finest available (2000 Daltons). By making marine collagen bio‑available to the cells in the body it further stimulates new collagen production.
Tremella
All hail nature's best moisturiser! Tremella has been proven to be more effective than sought after and expensive ingredients such as Hyaluronic Acid. Tremella's smaller particles penetrate the skin much more effectively, which therefore allows for superior collagen absorption.
Lotus
High in antioxidants Lotus eliminates damaging free-radicals, which are one of the main factors of the ageing process. It also contains enzymes linked with anti-ageing effects due to its ability to repair damaged proteins, ensuring collagen proteins remain strongly bonded.
Natural Silica
An essential trace element important for the natural synthesis of new collagen formation, helping maintain the skin's connective tissue and also its structure. Known as the 'beauty mineral', Silica is essential for supporting skin, hair and also nail strength.
Vitamin C
A potent antioxidant, essential for the protection of the skin from harmful free‑radicals, allows for optimum absorption of collagen, and is a beautifying nutrient in Bellē.
For the best results take Bellē with Encorē.
SHOP THE QT COSMETICS RANGE
Check out our Facebook and Instagram for even more tips and tricks.
MYM Beauty is dedicated to bringing Kiwis the best in beauty nationwide. MYM Beauty is your one-stop destination, where you can get everything in one place – haircare, perfume, makeup, skincare, beauty tools and also electricals – it's all here!
We stock a huge range of world-renowned brands, with everything from Kérastase and Redken, to YSL, Lancôme, Kiehl's, Maybelline, L'Oréal Paris and Viktor & Rolf.
Browse our range of products, including some of the hottest beauty launches and promotions, and you'll enjoy same day dispatch on any order before 4pm on weekdays.
Plus, you don't have to wait until pay day! Choose to pay with Afterpay, Laybuy, or Genoapay to spread your payments out while receiving your order right away.