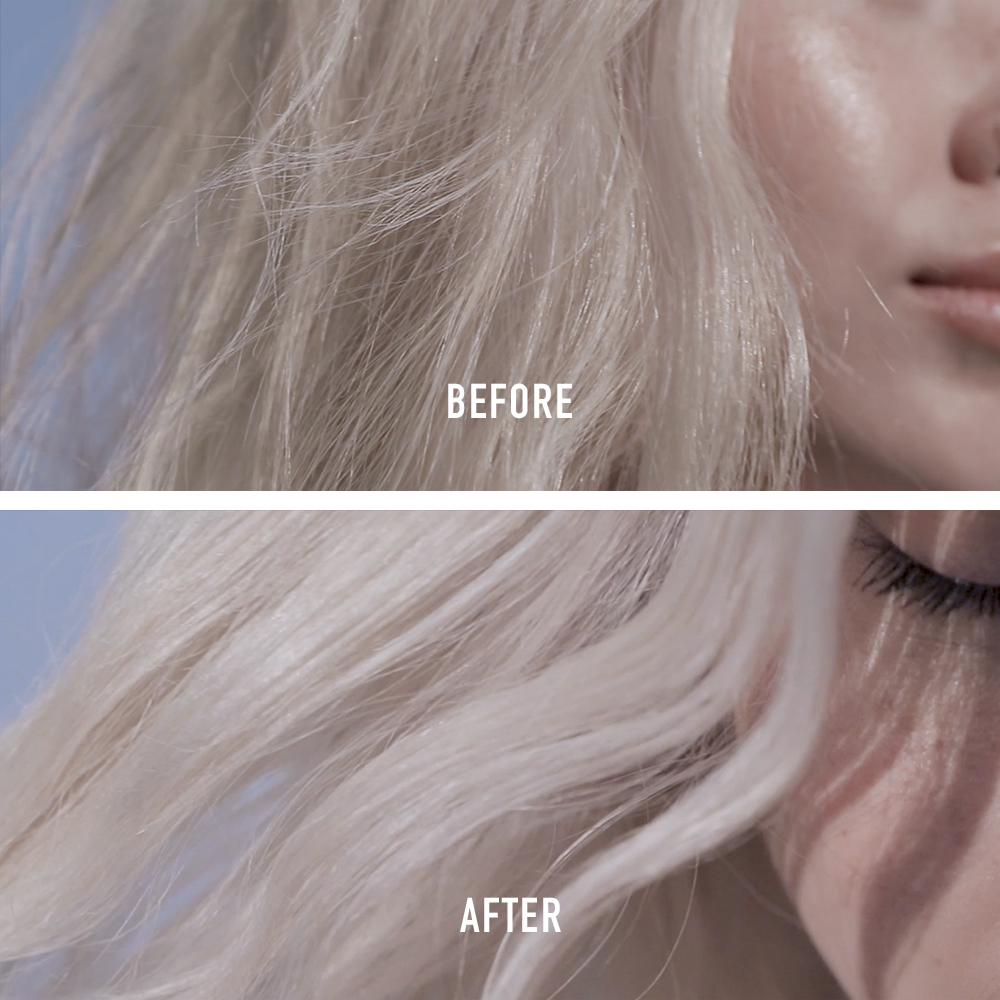 How To Care For Faux Blonde Hair
Going blonde is exhilarating. But stripping the hair leaves it naked and vulnerable. Blond Absolu provides healing care for hair that is 97% stronger and 92% more hydrated, with instant colour neutralising for 8x more luminous blonde.
Blond Absolu Bain Ultra-Violet Shampoo
Instantly neutralises brassy & yellow undertones
Leaves hair 94% stronger when used with Cicaflash
Removes impurities & pollution particles
Repairs the surface of hair fibre up to 46% when combined with Cicaflash
This powerful purple shampoo is rich in neutralising agents to instantly remove brassiness and yellow undertones. Ideal for cool faux-blonde and grey hair, the regular use of this shampoo provides durable anti-brassiness protection, keeping blonde shades cool for longer. It protects hair from daily oxidation and pollution, restoring shine and softness. Enriched with a potent combination of Hyaluronic Acid and Edelweiss flower, the formula instantly boosts blonde luminosity while deeply nourishing the fibre.
Combined with Bain Ultra Violet leaves hair 16x more resistant to breakage
Facilitates detangling from roots to ends
Deeply moisturises without weight
This opalescent milky gel with a soft lavender hue offers the restorative performance of a masque with the lightweight finish of a conditioner. It intensively restores sensitised hair, nourishing the fibre. The combination of Hyaluronic Acid and Edelweiss flower instant smoothes, strengthens and softens sensitised lightened hair while providing deep nutrition. Ideal for all tones of faux-blonde hair, Cicaflash restores the hair fibre, preventing breakage and erosion. Hair is soft and moisturised while remaining lightweight and luminous.
Blond Absolu Masque Ultra-Violet
Neutralises brassy & yellow undertones
Ultra-nourishing formula
Illuminate cool blondes for even brightness
Restores shine and softness
Ideal for lightened, highlighted cool blonde hair in need of neutralisation, this rich purple mask penetrates the fibre to remove unwanted yellow undertones and brassiness, while deeply hydrating and restoring hair strands. The powerful combination of Hyaluronic Acid and Edelweiss flower soothes hair, protecting it from daily oxidation and pollution particles. This non-staining hair mask can be used once a week, or as often as needed to neutralise brassy tones and keep your blonde hair luminous and cool.
Leaves hair 97% stronger
Provides immediate and 24 H long-lasting frizz control even in high conditions of humidity
Protects from heat up to 230°
Prevents pollution from redepositing on fibre
UV filters protect lightened hair from daily oxidation and sun exposure
This opalescent lavender-coloured leave-in cream fortifies sensitised faux-blonde, lightened, highlighted and grey hair. Enriched with Hyaluronic Acid and Edelweiss flower, Cicaplasme seals split ends and smoothes the hair fibre for a uniform touch and long-lasting frizz control. It instantly treats the damaged areas of the fibre. Cicaplasme provides heat protection for up to 230° to protect hair from heat styling tools. It also contains UV filters to protect against daily oxidation and pollution deposits. Hair is soft and luminous