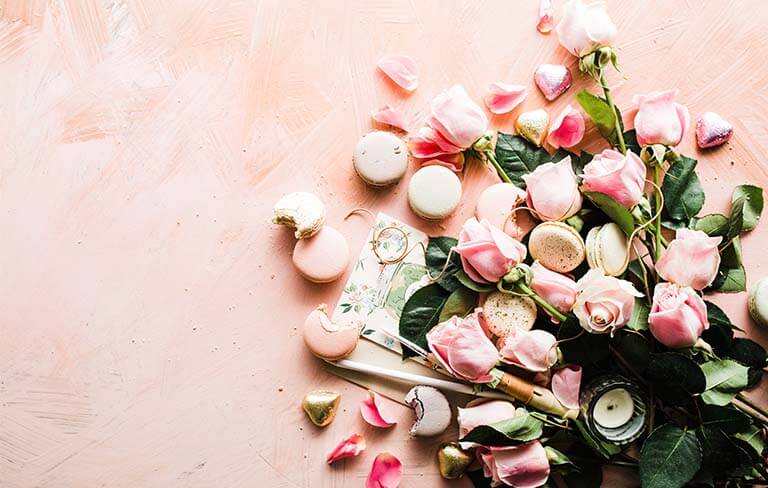 Valentine's Day Gift Guide: Love, say it with…
Unsure of what to get your love this Valentine's Day? We all know about those traditional gifts common in American movies, but let's change it up this year! Get into the spirit with the love-themed options in this Valentine's Day Gift Guide.

Valentine's Day Roses
Nothing is more traditional than a gorgeous bouquet of roses on Valentine's Day. They're the perfect way to express your Valentine's love. However the price of a florist's delivery these days combined with their disappointingly short lifespan makes us think there is a better way to utilise the rosy-romance. So, here are the perfumes that will exude love with their classical rose notes.
Giorgio Armani Si Passione EDP
This sparkling, fruity floral scent was created for passionate, feminine and free women. With notes of rose and woody vanilla, this one is a real winner, and the striking red colour of the bottle captures the entire essence of passion.
When working on the Flowerbomb fragrance, Viktor & Rolf dreamt of a fragrance that had the power to spread a positive message. A profusion of flowers as a weapon to spread the world with beauty and fantasy and to transform the negative into positive.
At once chic, voluptuous, intense, and soft, Si eau de parfum lingers on the skin and enchants the senses. Si has a top note of blackcurrant nectar, a heart of freesia and Rose of Mai, with a musky blond wood base. The modern woman who's strong yet feminine, sophisticated yet charismatic will love this fragrance.
Lancôme La vie est belle En Rose EDT
La vie est belle is a French expression that means "life is beautiful". This EDT is composed of an iris heart infused with peony and roses. "La vie en rose" is a French expression that translates as life seen through pink tinted glasses. This fragrance paints your world in pink hues, inviting you to always see the brighter side of life, its pink side and therefore cultivating happiness.

Valentine's Day Chocolate
We can't lie, everyone loves chocolate… but, summer is still here and we're not quite ready to give up on our New Year's resolutions just yet. Say no to the sugar and instead embrace the sweetness through these top scents – perfect for a gal with a sweet tooth.
Actually, forget it. Chocolate is too good to skip this Valentine's Day so pick up a pack of Lindor balls alongside one of the below.
La vie est belle introduces a new olfactive story, the first ever iris gourmand. This perfume is made with the most precious natural ingredients, it is a true modern interpretation on a classic oriental scent.
This is a sultry, smouldering perfume for women with notes of fresh raspberry, frankincense and vanilla. Combined with a bewitching heart of Black Rose essence. Two master perfumers created the classic La Nuit Trésor EDP. It begins with a burst of delicious raspberry, then deepens into notes of Damascena rose to enhance the mystery.

Valentine's Day Candy
A classic affirming candy heart is adorable, but it's time to walk the talk and put those "ur cute" notions to practice this Valentine's Day. Display how you really feel about your love with these candy-scented favourites.
Viktor & Rolf Bonbon Couture EDP
Bonbon is a timeless sensation inviting a pure but absolute pursuit of pleasure. Seduced by an auto-erotic sensory experience, she who wears Bonbon fragrance dresses herself in perfume, while also creating her own story. This classic has top notes of mandarin orange, neroli and peach, teamed with caramel and vanilla notes throughout.
Capture the intimacy and excitement of an unforgettable new encounter with the signature Armani Code for Women EDP. This floral fragrance opens with sensual orange flower notes, intertwining with fresh ginger accents that give way to a slow, but sweet, honey-sandalwood caress.

Valentine's Day Strawberries
Whether with cream or chocolate, nothing closes off a romantic Valentine's Day dinner better than strawberries. That's just it though… the end. Keep the excitement going with these gorgeous strawberry scents, you'll have her indulging in a special treat every day as well as every night.
A new sparkling fragrance inspired by Paris, which is the city of intense love. Red berries and pear immediately exude sensuality and femininity. The Mon Paris experience is a passionate, unforgettable whirlwind journey through Paris, and it'll make you feel like you've been directly transported there.
Giorgio Armani Because It's You EDP
Because It's You is happy, delicious and sparkling: irresistible like a ripe raspberry in its elegant naturalness combined with neroli. The fragrance is unabashedly feminine, full, instinctive and passionate. The fragrance plays with her powers of seduction as vanilla mixes with musk, revealing a complex and incredibly deep sensuality.

Valentine's Day Peonies
The modern woman's favourite bouquet is always a silky bunch of peonies, especially for Valentine's Day. Indulgent and glorious, these flowers absolutely stun with their extravagant blossoms. You can harness the power of these lusciously formed beauties with one of these peony-scented perfumes:
Giorgio Armani Acqua di Gio EDP
This floral fragrance has a charming sensation from the very first notes, with a deliciously heady current of crushed Mint. Accompanied by a zest of Italian Lemon, harvested from the first spring blossoms in Calabria, Italy. At its base, Acqua di Gioia signatures water rooted in Earth, revealed by luscious Cedarwood, sensuous Brown Sugar and Labdanum.
Check out our Facebook & Instagram for even more tips and tricks.
MYM Beauty is dedicated to bringing Kiwis the best in beauty nationwide. MYM Beauty is your one-stop destination, where you can get everything in one place – haircare, perfume, makeup, skincare, beauty tools and electricals – it's all here!
We stock a huge range of world-renowned brands, with everything from Kérastase and Redken, to YSL, Lancôme, Kiehl's, Maybelline, L'Oréal Paris and Viktor & Rolf.
Browse our range of products, including some of the hottest beauty launches and promotions, and you'll enjoy same day dispatch on any order before 4pm on weekdays.
Plus, you don't have to wait until pay day! Choose to pay with Afterpay, Laybuy, or Genoapay to spread your payments out while receiving your order right away.
*terms and conditions apply